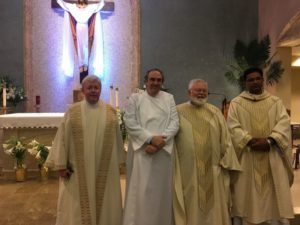 Would You Like to Become Catholic? 
On October 27, 2020, we began instructional classes for anyone who is interested in becoming Catholic and also, any adult Baptized Catholic who has not yet made Confirmation, received Holy Communion or First Penance. Please spread the word about your faith and our RCIA Process to your non- Catholic friends and those who are baptized but have not received the Sacraments. Classes will take place every Tuesday, at 7pm in the Saint Seton Church Hall in Absecon. Social Distancing protocols will be adhered to for the safety of all. Those who are interested, please fill out the form below and return it to the Parish office or by placing in the collection basket. For more information, please call Deacon Len Long at 609-335-6470. We are all called to share our Catholic faith with the world!
Rite of Christian Initiation of Adults – RCIA
This process is for the following:
Those people who do not belong to any Church and wish to become Catholic.
Those who belong to another Christian Church and wish to become Catholic.  
Those who were baptized Catholic and have never been catechized and did not receive the Sacraments of Holy Eucharist and Confirmation, and wish full communion in the Catholic Church.
The first stage is called the Inquiry Period and is the time to ask questions.  No commitment is made at this time.

If you wish to begin the process of RCIA, please contact Deacon Len Long at 609-335-6470.