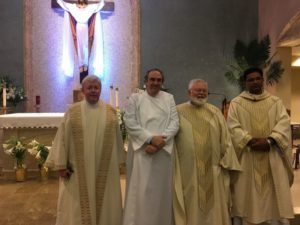 Would You Like to Become Catholic? 
Rite of Christian Initiation of Adults – RCIA
This process is for the following:
Those people who do not belong to any Church and wish to become Catholic.
Those who belong to another Christian Church and wish to become Catholic.  
Those who were baptized Catholic and have never been catechized and did not receive the Sacraments of Holy Eucharist and Confirmation, and wish full communion in the Catholic Church.
The first stage is called the Inquiry Period and is the time to ask questions.  No commitment is made at this time.

If you wish to begin the process of RCIA, please contact Deacon Len Long at 609-335-6470.  2017-2018 Sessions begin on Tuesday October 17. We meet every Tuesday at Saint Elizabeth Ann Seton in Absecon.