Ministry Leader: Eileen Robbins (610) 721-7438
Our goal is to make the Homebound know they are still an important part of our community and help them not  feel so isolated. We help coordinate and connect them with Vitality Catholic Healthcare Services, The True Spirit Coalition and St. Dismas Ministry.
In addition, this Ministry works with the Parish Office Staff who keeps the Parish Homebound List updated and assigns Eucharistic Ministers as needed so they may receive Communion weekly and periodic visits from our Parochial Vicar.  If you or a loved one is homebound and would like to receive communion at home, please call the Parish Office at 609-266-2123, ext. 3 to let the staff know.  Leave your name, address and a phone number and someone will be in contact.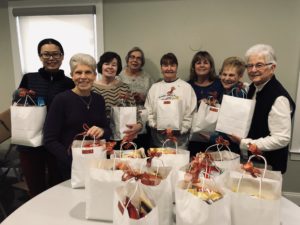 HOME BOUND GIFT BAGS…2019 Christmas Season, St. Thomas Volunteers packed and distributed 100+ gift bags to our home bound residents.  Thank you for all your hard work and generosity.